Mangrove Afforestation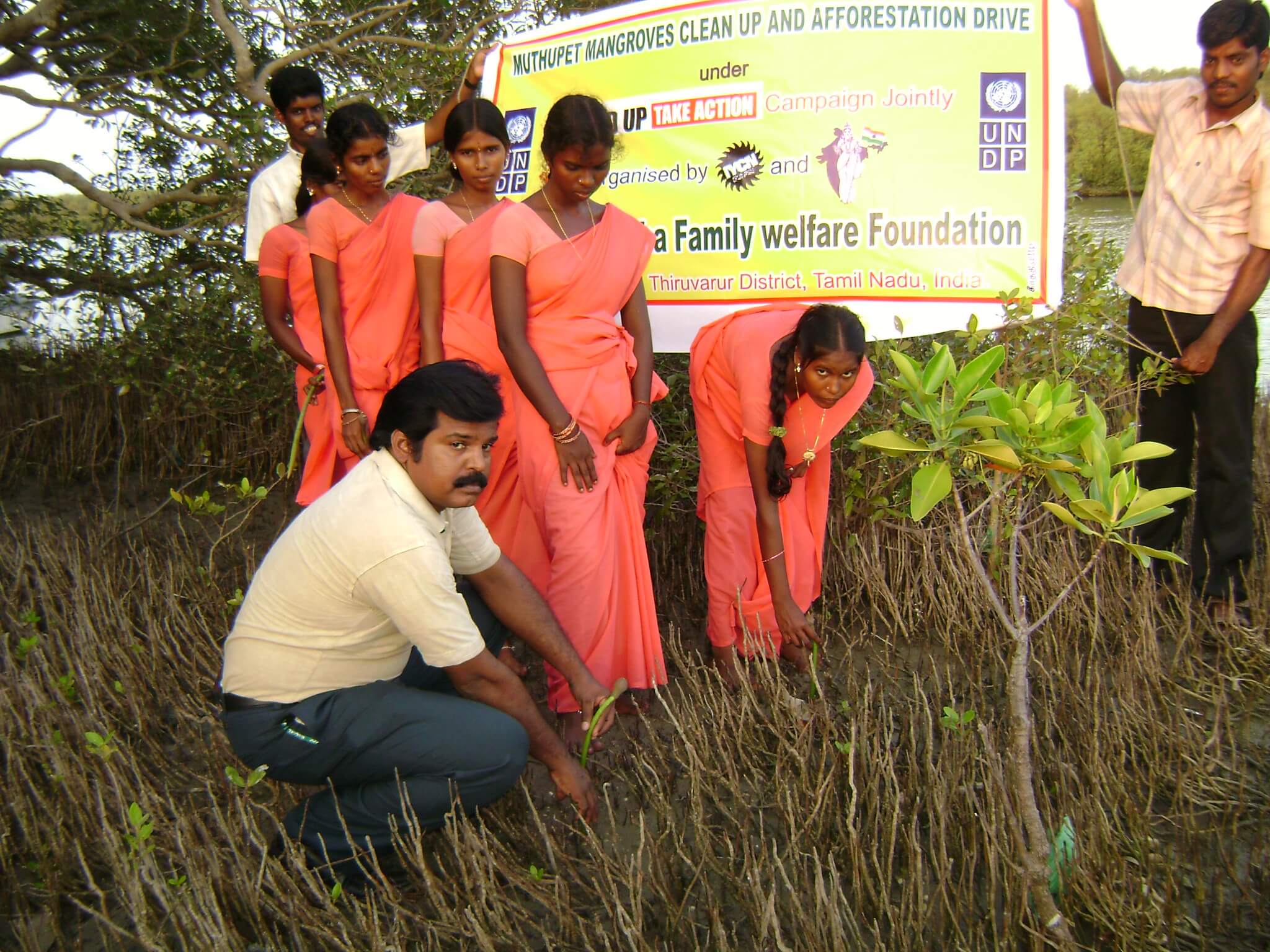 The mangroves that guarded the coastal shores during the tsunami in 2004 now face destruction. Alayathi Kadu,as locally known, is one of the two known mangrove forest covers in Tamil Nadu. It is located at the the mangrove forests of Muthupet that border the lagoon created by the Koriyar and Bamaniyar rivers. This well preserved unique ecosystem of this region is very delicate and climatically important to humans, where mangrove forests are fast depleting due to human activity. Muthupet Mangrove Forests face severe deforestation. Now, almost 9 sq.km is completely in need of afforestation. Bharathamatha Foundation along with the Indian Youth Climate Network started Enrichment Planting last year in order to conserve one of the most delicate ecosystems in India. Events for October 24,2009 the international day of climate action included a marathon, a plantation drive, a cycle rally by us and many of our partners. As the first step, we planted saplings of Rhizopora sp and Avicennia sp in a few patches of the total 9 sq.km area as a part of the Stand Up and Take Action Campaign on Oct 24th 2009.
Disaster Management
Last year, we implemented Disaster Risk Management Programme and covered the area of two block Kottur and Muthupettai of Thiruvarur District with the co operation of District administration and local panchayat president. The programme was sponsored by UNDP Govt. of India Govt. of Tamil Nadu and Sanctioned by the District collector of our Thiruvarur District. We could successfully carry out the following activities. To start with, we conducted village level survey, hamlet survey and formed panchayat level separate committees, NGO Separate team to render Disaster Risk Management with multi sector co-ordination and immediate response for early action.The following teams were formed to render proper services.
Early warning team.
Search and rescue team.
Shelter management team.
Water and sanitation team.
First AID and medical services team.
Relief and Rehabilitation team.
Coordination team for rescue and disposal operation.
Trauma care counseling team.
Damage assessment team.
We also constituted a Block level Disaster Risk Management Committee for the two blocks with 20 important members including Medical Police Revenue. CBOs Agriculture, youth Development, Department, Special Training on Disaster risk management first Aid, Minor Ailment Treatment, Rescue operation in fire accident and other natural calamity. We also imparted Mock drill sensitization, PRI members training and covered 78 Panchayats in 2 blocks including 161 hamlets. People response to those trainings was really appreciable.
Tsunami Relief
We are happy to proclaim the fact that we were one of the active organizations that helped the Tsunami victims .Our efforts to normalize the situation in the Tsunami affected areas of Nagapattinam District was highly appreciated. On 26th December,2004 , the disaster of colossal magnitude ,called Tsunami hit the eastern coast of Tamil Nadu. Nagapattinam districts was badly affected and on knowing the disaster, we immediately sent a crew of 41 members that consisted our staff and Volunteers . This team carried out rescues operations and finding out of missing persons and dead bodies. Through our efforts, we rehabilitated 25 people belonged to Velankanni Village and performed burial of 1026 dead bodies.
As a part of relief work, we distributed milk, Biscuits, Food packets, mats and vessels and school bags to victims, with the help of CORD AID – Netherlands through CCOORR.Besides this, we immunized nearly 15,000 people against various diseases through facilitating medical camps in the affected places of Nagapattinam District. We carried out all sort of first aid services like sheltering the injured in safe places, arrangement of Ambulance services, Mobile Medical Services, General medical relief camps, Emergency Health services, health centers and arrangement of mass burial. Starting from a week after the disaster, we provided security to the elderly, women ,disabled and children. With the help of Spastin,Chennai,we provided Tricycles, Crutches and artificial limps to the victims of the disaster.